More than likely, you've at least heard the name. And if you've been in my chair, you've had it used during your appointment. What is my obsession over this product? Where did it come from? What is it used for? Let's dive into it! And keep reading until the end for something extra special!
What is it? Olaplex was created to be a "hair repairer." It seeks out the broken bonds in the hair, and fuses them back together. How is that possible, you ask? It's science, duh. No but really, the main active ingredient is called bis-aminopropyl diglycol dimaleate. I don't even know if I can pronounce that correctly! This single ingredient is what seeks out the sulfur hydrogen bonds, and fuses them back together. It creates a protective barrier.

So why do we need this in our hair? I don't care if you've straightened your hair every day since you were 15, colored it only twice in your life, bleached it into oblivion, or never put color on your hair ever; your hair is going to experience damage. From tool heat, the sun, chemicals, even all those ponytail holders you've lost and gained over the years. It all puts stress on the hair, and eventually it can break. Eventually you get split ends.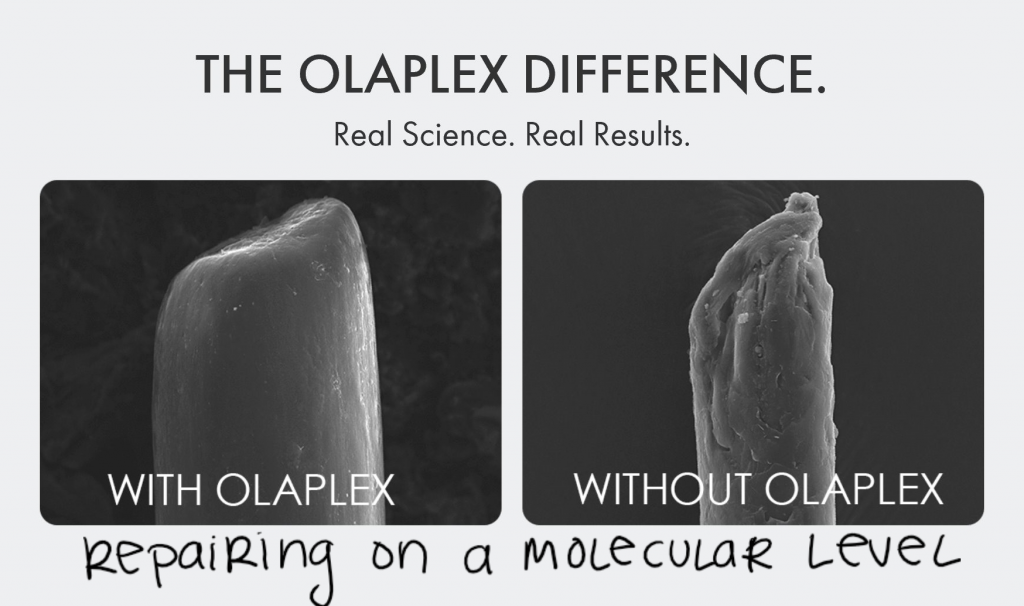 Now, am I saying that Olaplex is the magical wizard of hair products and you never need anything else? No. I'm saying that this product is a helper. It's going to help protect the hair, help repair those broken bonds, and help you walk around with more confidence that your straightener, those highlights, and that sun, aren't going to turn your hair into straw!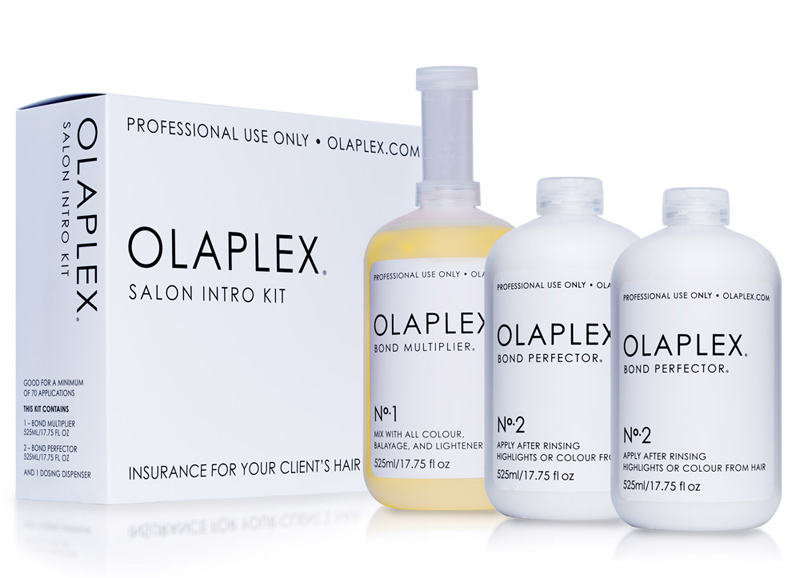 Okay, so now that we know what Olaplex actually is; how is it applied? It originally started as a 3 step system. Lets break it down:
Step 1: No.1 is applied to the chemical service (color, lightener, perms) in the salon.
Step 2: No.2 is then applied in the sink, after rinsing or shampooing. Usually left on for 5-15mins.
Step 3: No.3 is a take home treatment, that you can use weekly, bi-weekly, basically whenever you want! It's applied to damp hair before you shampoo & condition, and I tell my clients to leave it on a minimum of 45 minutes.

All of the products contain bis-aminopropyl diglycol dimaleate, as well as other important ingredients, but the No.1 is going to have the highest concentration, at 50%
But here's the fun part! Olaplex has expanded their line! The same chemistry, has been applied to 4 more products! FOUR! And, you can probably guess the names.
No.4 Shampoo. No.5 Conditioner. No.6 Bond Smoother. No.7 Bonding Oil.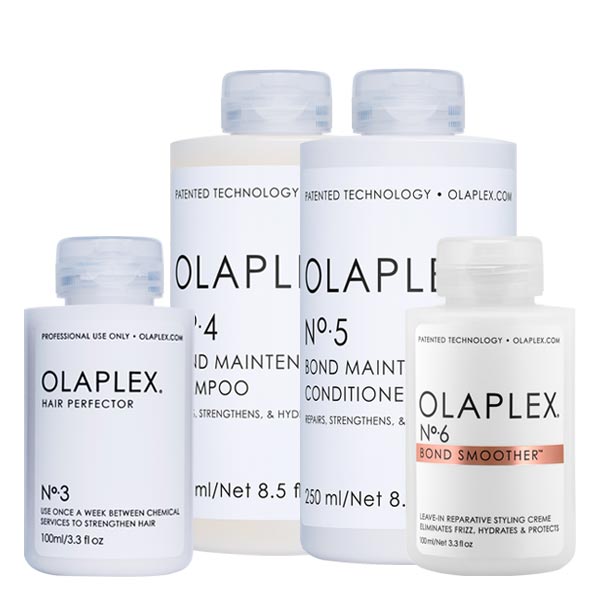 I feel like I need to say something about how you get ahold of this liquid gold. You can only get Olaplex 1 and 2 in the salon. Please, do not try to buy it off of Amazon. Olaplex 3-7 can be bought either through your hairstylist, or specific retailers. I know that Sephora and Nordstrom have a deal with Olaplex; but again, I wouldn't trust buying it off of Amazon. I love prime, but I prefer to buy my hair and skin products directly from the company.
So we've gone through the chemistry of it. We've broken down the system and how they work. Here's the last question: why do I prefer Olaplex over anything else?
Because it's the OG! Olaplex was the first chemical bonder on the market. Since then, almost all professional color lines have created their own. And I mean zero disrespect to the others, but I prefer Olaplex since it was there from day 1. I've been using this system for 5, almost 6 years; and I can tell you story after story of what its been able to do. Repairing chemically frazzled or shattered hair on color corrections, letting me lift hair in confidence that it's not being destroyed, giving dry hair a revived boost of moisture, and so much more.
I always keep stock of Olaplex, and usually have a hard time keeping it on the shelf because they buy it religiously! But with the Holiday season coming upon is quickly, I've decided that I want to do a giveaway! I am going to be choosing one person to receive the entire take home system: Olaplex 3, 4, 5, 6, & 7; that's a $140 value!!
Do you, or someone you know love Olaplex? Want to try it? Know someone that would greatly benefit from it?
Here's how to win:
1. Follow my IG page: sculptedtresses and tag a friend!
2. Leave a comment here on this blog post

Easy as that! I'll be picking the winner on Sunday, November 17th!