Who doesn't love long hair? Who hasn't dreamed of having hair that gracefully lays down your back, with waves shining? Answer: no one. We all have wanted that kind of hair at one point or another. Shoot, I want that kind of hair!
Back in April, I attended a class on a new extension method: The Kacey Welch Method. I got to learn from one of the best in the business, Kacey Welch, celebrity extension specialist. Google her! The hair is hand-sewn silk wefts. Silk wefts? What's that? It's a 13 inch weft of human hair that is placed on a piece of silk, and woven together. No return, or "mustache" is present. There are several different methods to hair extensions: hand-tied, fusion/bonded, tape-in, clip-in, sew-in, and probably a couple other methods that I haven't heard of!
What sets The KW Method apart from the others? There is zero heat, chemicals, or glue damage. The anchor is created with your own hair! Throw it up in a bun, ponytail, braids, etc. You can swim in them, workout, wash often, they're a DREAM when it comes to extensions! They're so low maintenance, that most of my clients forget that they're there.
Are you a candidate? I guarantee you are. It's just a matter of how much hair is needed to achieve the look you desire. Most only need 1 or 2 rows. Can you believe that? Laying flat against your head, zero damage, and zero itch. Sounds like a dream- but its reality!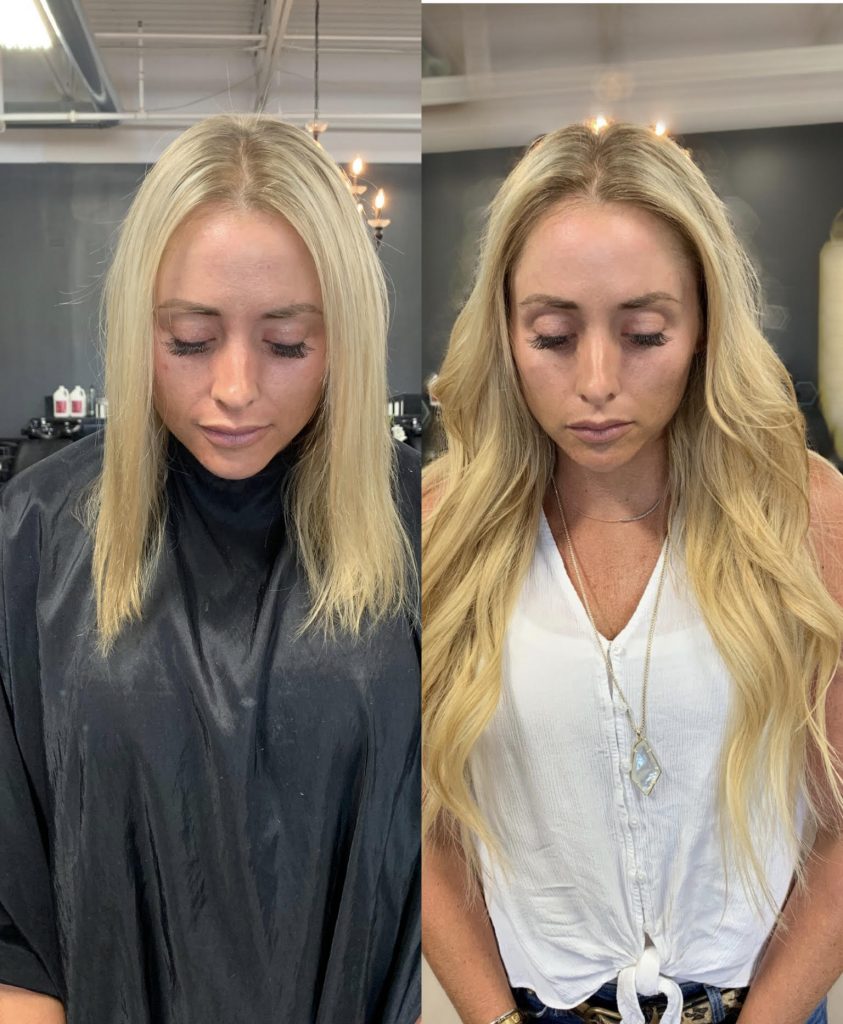 The specific KW Hair has 2 lengths, 16 inches and 20 inches. And there are 6 different colors available. Two of these can have lightener applied to them! All of them can be toned/glossed for a custom color and blend! As if the hair couldn't get any better, you can PERM these extensions. Yup, you read that right; all my curly-haired babes can have fuller, longer curly hair!
Maintenance for these extensions is low. When you have the KW Method, I supply you with all the knowledge you need to know to maintain the hair; and I send all my extension clients home with a specific brush to keep them tangle free. The extensions will need to be moved up, every 8-10 weeks, to maintain the quality of the hair.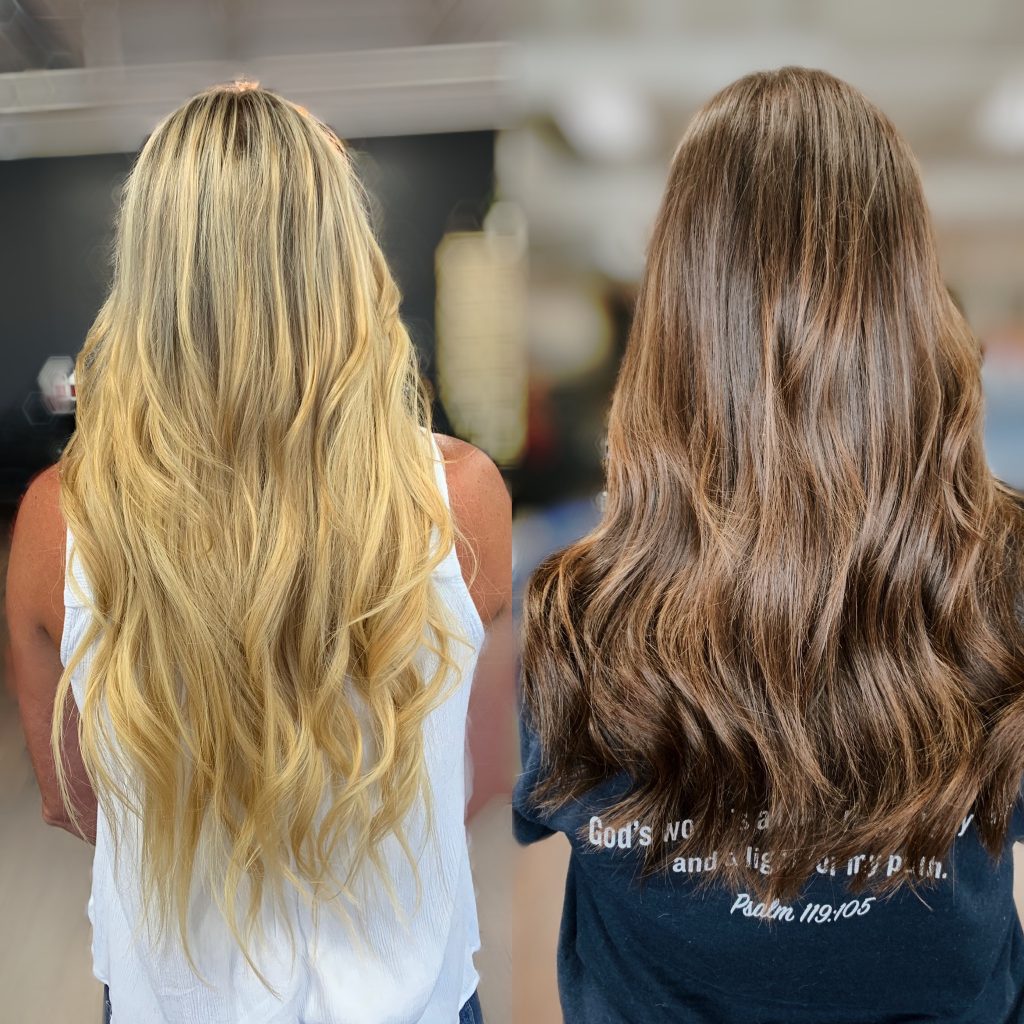 Okay, so we know this hair is amazing, right? We agree that it can add length, and density to the hair, and that its low-maintenance. Are you wondering about cost? Understandable. Pricing varies, depending on how much hair is needed. And the only way to determine that, is by setting up a consultation. The cost of the hair, and the installation are two separate costs. I will say this, the feedback I've been given from these women is incredible. Here's a testimonial:

"When Kayla first told me about the Kasey Welch Method of extension installation and how much she thought it would suit me, all those years spent attempting to 'make my hair' do something it couldn't do came rushing to the forefront of my mind. It seemed like another impossible promise or, at best, one that would end up being more trouble than it would be worth. Kayla's dedication to excellence in her art, her refusal for anything but the best quality in her materials, and her straightforward integrity put a wrench in the cogs of my cynicism just long enough for me to sign up as her first Kasey Welch Method client.
As I sat in Kayla's salon chair, I was reserved. Maybe I was even a little cynical. I've often described my natural hair as 'thin, flat and useless'. It became apparent over the years that attempts to thicken it ended with disappointment, techniques to add volume were inconvenient and time consuming. I resigned myself to a pixie cut, believing it was the only way to achieve a cute style and an easy daily routine. Eventually, though, the nearly bi-weekly haircuts to maintain the style proved to be more maintenance than this low-maintenance gal with a packed out schedule could keep up.
So, as I sat in her salon chair and she began to carefully weave strands of hair and beads together and I began to see the outcome of this ingenious method of extending hair, my skepticism began to wane and I felt an unfamiliar excitement growing. I have been excited about many things in my thirty plus years of life but my hair has never been listed among them. In spite of all my previous pessimism, the promise of this method wasn't empty. Not since my wedding day had I looked in the mirror and found real confidence and excitement by what I saw. I left the salon that day feeling not like a new person, but like myself.
Months have passed since I became Kayla's extension client and I cannot speak highly enough of the experience. This method is, by far, the least damaging, least time consuming, most versatile and easiest to manage of all extension methods. I can work out, swim, sleep and live my whole life normally. I may spend a little more time with my hairdryer than I used to, but I've been enjoying every minute of it!"
Aren't you just loving these photos? Do you have more questions? Send them my way! Let's set up an appointment and create the hair of your dreams!